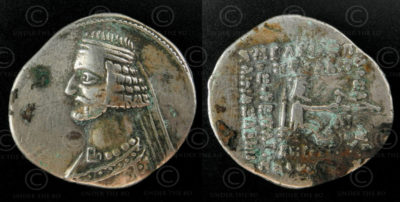 Parthian silver coin C264
Silver drachm depicting the head of the king turned left, an archer seated on throne holding bow on reverse.
Reign of King Mithridates III (70 – 55 BC).
Parthian Empire.
See details on Wikipedia.
3.8 gr.
Diameter: 21 mm.
Free shipping worldwide by airmail.
$ 237
More info about Parthian silver coin C264
You can send us an E-mail with the form below to get more information : details, pictures, ...