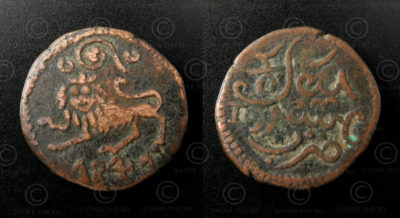 Mysore bronze coin C149A
Copper alloy 10 cash coin depicting a sardula (mythical beast half-lion half human), dated 1841 on obverse, name of ruler reverse.
Reign of Krishna Raja Wodeyar III (1799 –1868).
Wodeyar dynasty of Kingdom of Mysore, South India.
See details on Wikipedia.
4.3 gr.
Diameter: 17 mm.
Free shipping worldwide by airmail.
$ 17
More info about Mysore bronze coin C149A
You can send us an E-mail with the form below to get more information : details, pictures, ...