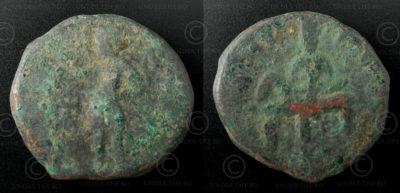 Kushan bronze coin C130B
Copper alloy tetradrachm depicting the king mounted on horse to the left, god of metals Athsho on reverse.
Reign of King Kanishka I (circa 127/8 – 152 AD).
Kushan Empire.
For details, see Wikipedia.
14.4 gr.
Diameter: 25 mm.
Free shipping worldwide by airmail.
$ 17
More info about Kushan bronze coin C130B
You can send us an E-mail with the form below to get more information : details, pictures, ...