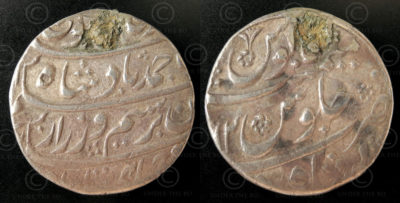 Afghan coin C249C
Silver rupee.
Reign of emperor Ahmad Shah Durrani (1722–1773) of Afghanistan.
Minted in Peshawar.
See details on Wikipedia
11.2 gr.
Diameter: 2mm.
Free shipping worldwide by airmail.
$ 82
More info about Afghan coin C249C
You can send us an E-mail with the form below to get more information : details, pictures, ...