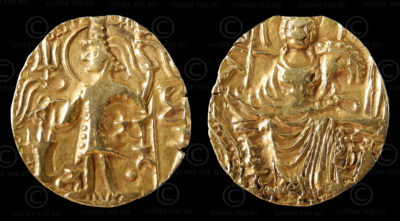 Kushan gold coin C159
Gold 18 carats stater depicting the crowned king standing facing, and at reverse: Goddess Ardoxo.
Reign of King Shaka (circa 325-345 AD). Kushan Empire.
For details, see the coins galleries at COININDIA.
7.7 gr.
Diameter: 20mm.
Free shipping worldwide by airmail.
$ 821
More info about Kushan gold coin C159
You can send us an E-mail with the form below to get more information : details, pictures, ...