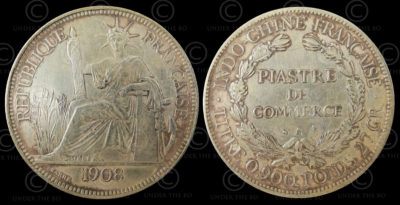 Indochina silver coin C88A
Silver piastre de commerce depicting Justice on Obverse and silver contain (90%) and weight (27 gr).
Engraved by Jean-Auguste Barre.
French Indochina, 1908 mint.
See details on Wikipedia.
26.6 gr.
Diameter: 39 mm.
Two coins available (+1902).
Free shipping worldwide by airmail.
$ 56
More info about Indochina silver coin C88A
You can send us an E-mail with the form below to get more information : details, pictures, ...